How to Maximise Customer Retention?
What is customer retention? It is the activity that an organisation undertakes in order to reduce customers leaving and going to the competition.
Bringing on new business is important but equally important is retaining the existing customers that you have. Satisfied retained customers tend to spend more, cost less and make valuable references to new potential customers. There are a number of things any business can do to improve their customer retention numbers.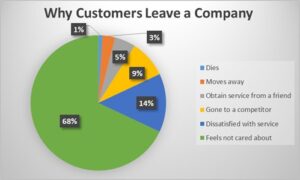 The following identify key areas to improve retention:
Listen
Identify from your existing customers what they like about your product/service and what you can do to make it even better. By getting the facts and feedback you can improve your offering and deal with any customer niggles quickly and professionally.
Appreciate
New and existing customers want to be appreciated, this can come in many forms. You can offer follow up services, incentives, discounts and personal greetings. It is important the buying journey for the customer will be a happy experience and not forgotten.
Proactive
Always be proactive, this can eliminate problems before they occur. If an item or service is going to be delayed, inform the customer so they are not waiting for it and then complain because of the error.
Communicate
Always have a two way flow of communication with your customers. If the customer feels that you are communicating with them they will feel more satisfied whatever the outcome. Whether this be by phone, post, text or social media.
Revisit
It can take a lot of time and resource to generate new customers when 25% – 60% of these customers are open for you to contact them and re-establish their business – as long as you approach them in the correct way with the correct offer. Understanding your customers is key to this.
Act
If a customer complains do not ignore it – 96% of unhappy customers do not complain they just never return and you will never understand the reason why. They may not tell you what went wrong but will be sure to inform others. So it is important to always get customer feedback and act on it whether positive or negative to help retain that customer.
By following the above rules you are more likely to retain more customers who in turn can recommend you to others.