Festive Replenishment Store Support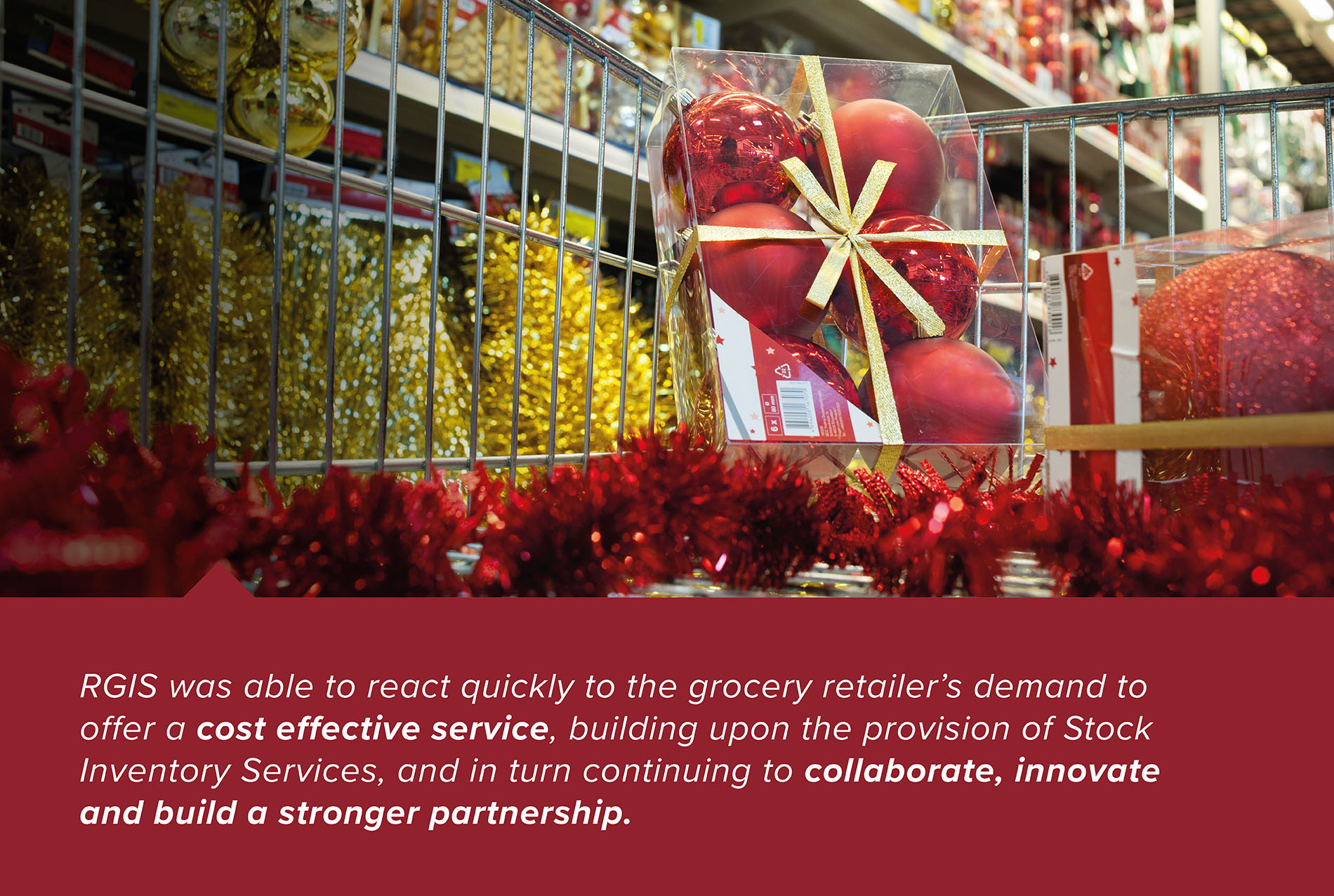 A British multinational groceries and general merchandise retailer required the support of RGIS. It is the third-largest retailer in the world measured by gross revenues and the ninth-largest in the world measured by revenues. It has shops in seven countries across Asia and Europe, and is the market leader of groceries in the UK, Ireland, Hungary and Thailand.
REQUIREMENT
In supporting stores, RGIS provided a product familiar, professionally trained team of people, which helped to improve on-shelf availability and shopping experience for customers, and helped the grocery retailer to drive sales.
To ensure optimal stock levels were available and maximised during a busy period by:

Supporting 70+ Stores

over a four-week period pre and post Christmas, completing 2000+ day and night shifts
Support sales base on

stock availability

Support in allowing the company's employees to focus on customer service and upholding their core purpose 'serving customers a little better every day'
SOLUTION
RGIS worked collaboratively to schedule and plan a robust operational delivery plan, supporting stores as required. RGIS was able to:
Provide

dedicated teams and key roles

to support stock replenishment and merchandising in stores throughout the UK, in all departments
Provided induction to all team members to ensure employees were fully adherent to the required company practices,

acting as an ambassador for the company's brand

RGIS

deployed 100+ employees

supporting day and night shifts to accommodate the stock demands during a four-week period
RESULTS
Through a proactive partnership approach. RGIS supported to:
Achieve optimised on-shelf availability
Ensure the stock demands were met, resulting in a

higher sales trend

through on-shelf stock availability

Succeed the grocery retailer's customer service expectations

, respecting the 'brand' while working in the store improving
customer experience
Achieve a

quick turnaround

for staff on late request supported store operations