Focused Stock Count of Seasonal Goods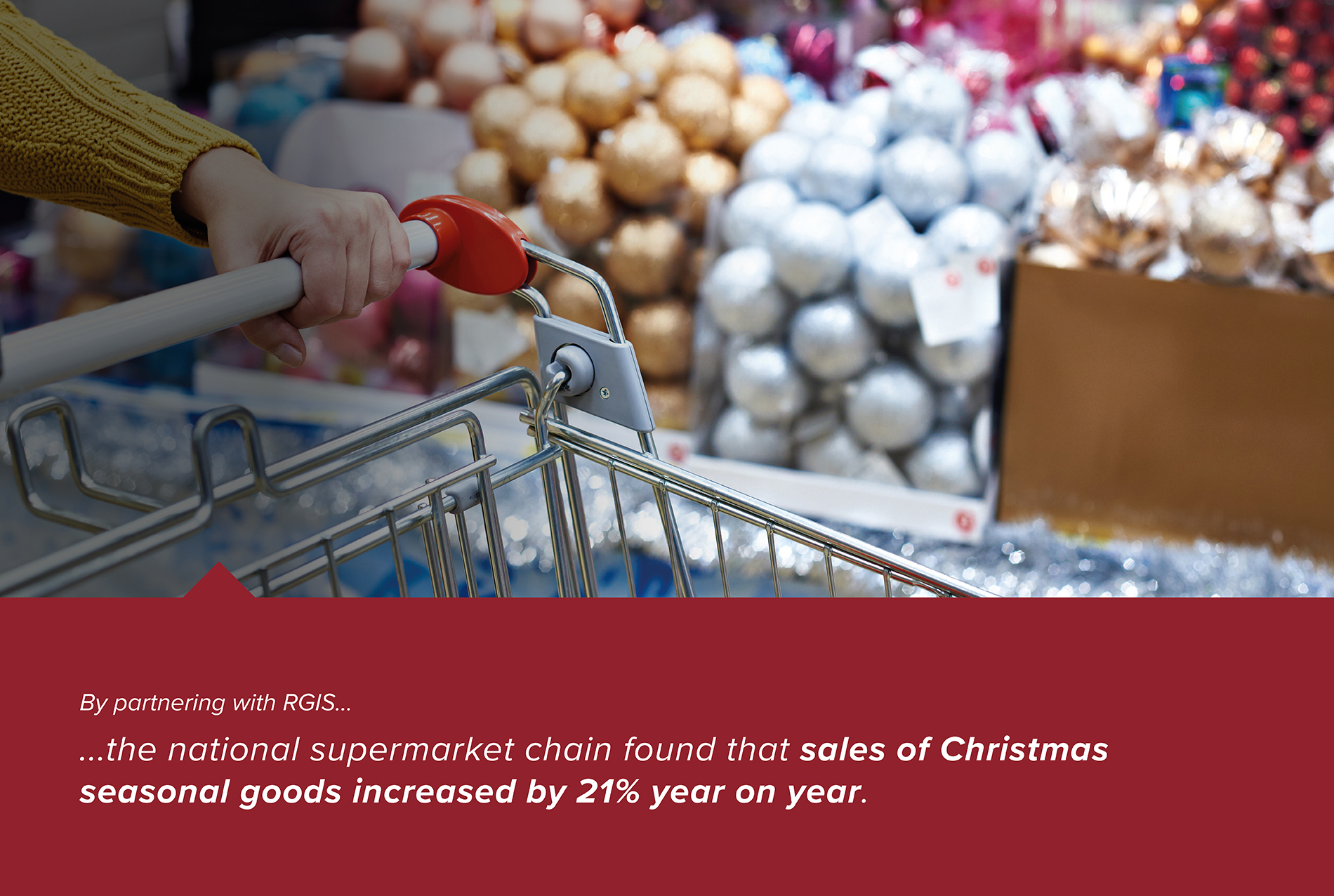 A national supermarket retailer with 2,400 stores and online shopping service with over 3,000 own brand product lines required the support of RGIS. The supermarket retailer offers customers distinctive, quality products at competitive prices across food, general merchandise, clothing and financial services. Driving efficiency in day-to-day operations enables them to invest in the customer offers in areas that they value: choice, quality, low prices, convenience and great service.
REQUIREMENT
A national supermarket chain identified that Christmas seasonal goods had not sold as well as the previous year and wanted to have a better understanding of why.
The national supermarket required RGIS to provide the following:
To understand the

reasons behind the decrease in sales

To

ensure shelf space for seasonal stock

was being adequately used
A

strategic plan

to mirror across all stores
The

data to put a plan together

to run throughout the Christmas season
SOLUTION
The national supermarket chain partnered with RGIS to complete the Christmas stock focused stock count project, and provided the following:
A quarter of the estate would have

focused stock counts

The counts would take place

every week for six weeks

Product reports

would be generated in real time
Both the

shop floor and stock rooms

would be included in the count
RESULTS
The national supermarket chain found by outsourcing the Christmas stock focused stock count project to RGIS, the following results were achieved:
A total of

120 stores were counted

.
The first round of counts

identified issues with shop floor stock being low

, when products were available in the stock room
Due to

process changes and additional checks

this meant the shelves were now kept more stocked than previously

Stock from the previous year

that the customer was unaware of, was found in the stock room

Sales of Christmas seasonal goods

increased by 21% year on year