Out Of Hours Merchandising Support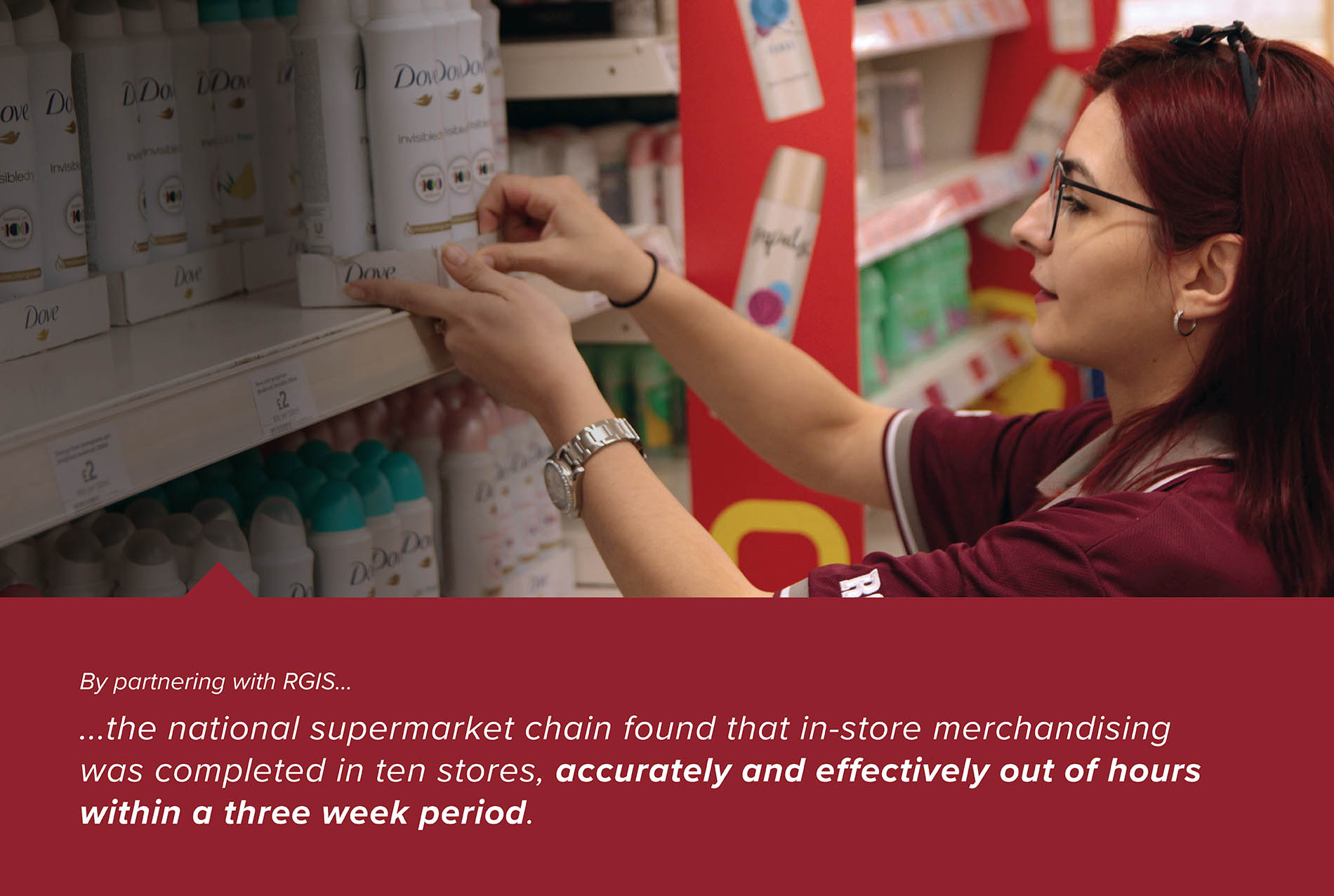 A national supermarket retailer with 2,400 stores and online shopping service with over 3,000 own-brand product lines, required the support of RGIS. The supermarket retailer offers customers distinctive, quality products at competitive prices across food, general merchandise, clothing and financial services.
REQUIREMENT
A national supermarket chain required experienced merchandisers to complete in-store merchandising services within a number of stores at short notice.
The national supermarket chain required RGIS to provide the following:
Experienced merchandisers

A team available in

four days

, as there had been last minute changes to the customer's schedule
To be

familiar within a retail environment

Overnight shifts

required to complete the in-store merchandising

Nationwide coverage

to complete all stores
To have the project completed within the tight deadline to

ensure all stores opened had been fully merchandised
SOLUTION
The national supermarket chain partnered with RGIS to complete the overnight in-store merchandising project, and RGIS provided the following:
RGIS supplied

ten teams of seven experienced merchandisers

to support the stores
Scheduled

twelve hour

night shifts

to complete all work within each store
Turned the request around

within two days

Local districts supported each store,

reducing costs and

maximising

performance
RESULTS
The national supermarket chain found by outsourcing the overnight in-store merchandising project to RGIS, the following results were achieved:
RGIS

accurately and effectively completed the merchandising in all ten locations

within a three week period
RGIS deployed

70 staff, totaling 840 hours

in store
The customer was

extremely happy with the speed

in which RGIS teams delivered the work and the performance of the teams

The customer was most impressed with the experience of the RGIS staff, as all tasks were

completed on time and

to a very high standard