Pet Store Chain Inventory Counts to Identify Stock Loss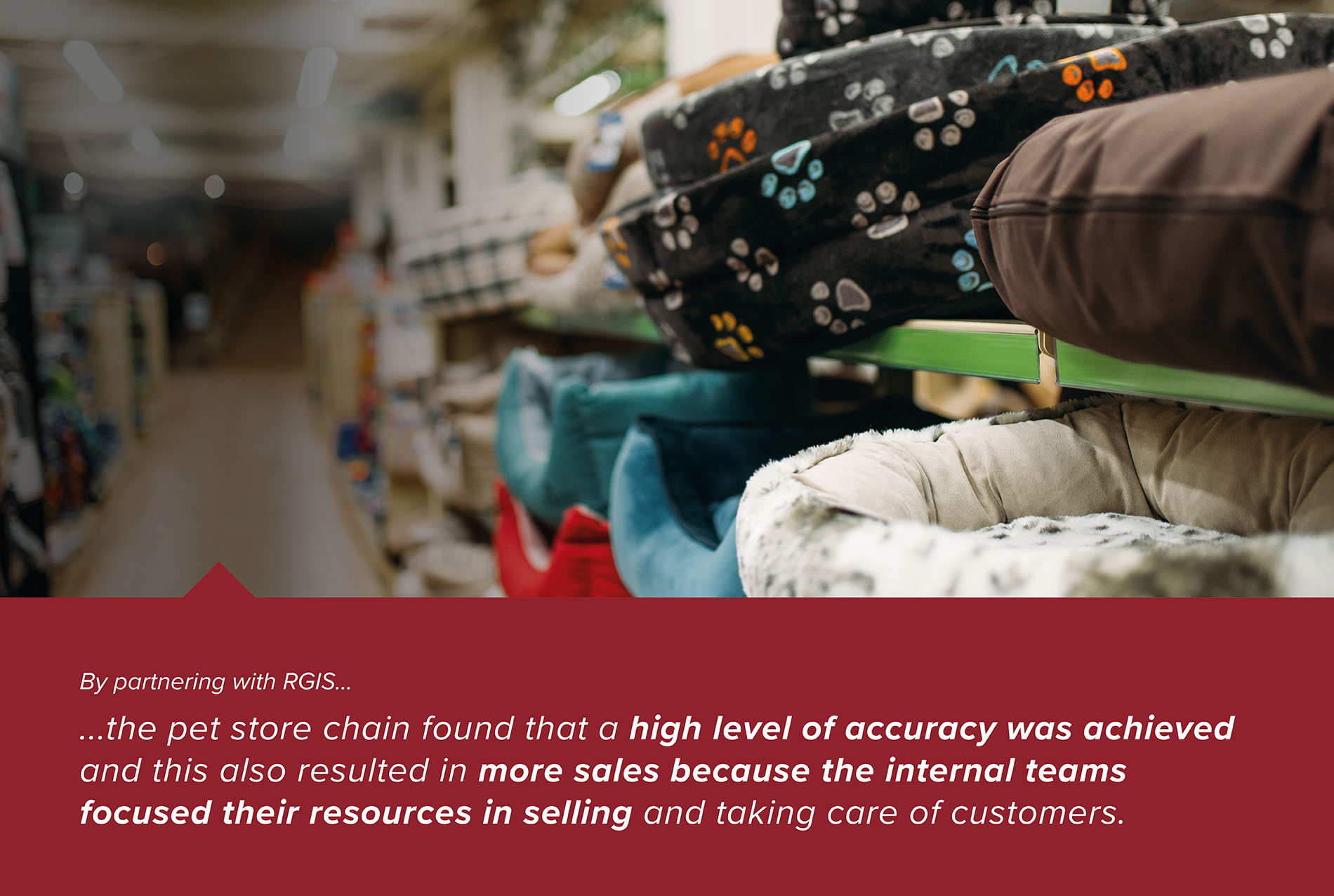 A pet store chain has been making more than 400,000 customers and their pets happy in Spain, Portugal, France and Italy since 2006. The pet store has an assortment of more than 16,000 products for dogs, cats, reptiles, rodents, birds and fish, both on the website and in stores of more than 1,000m2.
REQUIREMENTS
The pet store chain needed a solution to understand the stock levels of stores, due to finding a loss of 25% of expected stock levels.
The pet store chain required RGIS to provide the following:
Count the stock of

66 stores

All stock to be counted by RGIS,

except live animals which the customer would count

Identify variances

to expected stock levels

Customer to be able to

check accuracy during the counts
SOLUTION
The pet store chain partnered with RGIS to complete the stock levels count project, and RGIS provided the following:
Scheduled

teams of six experienced RGIS auditors

for seven hours per store

All stock was counted in each store

with the exception of live animals
Stock including pets' clothes and big boxes of feed for animals were

counted individually due to the high value

of the product
The customer

completed checks on 25%

of stock counted
RGIS completed an

additional check on 10%

of stock counted to confirm accuracy
RESULTS
The pet store chain found by outsourcing the stock levels count project to RGIS, the following results were achieved:
An average of

35,000 units were counted per store

Accurate reports were provided showing

stock totals and any variances to expected stock levels

per store
The customer realised the

cost savings in using a third party to complete the store inventories

due to the high level of accuracy achieved
By outsourcing the store inventories to RGIS the customer found that it also resulted in

more sales because the internal teams focused their resources in selling

and taking care of customers