Pharmacy Chain Rebranding Project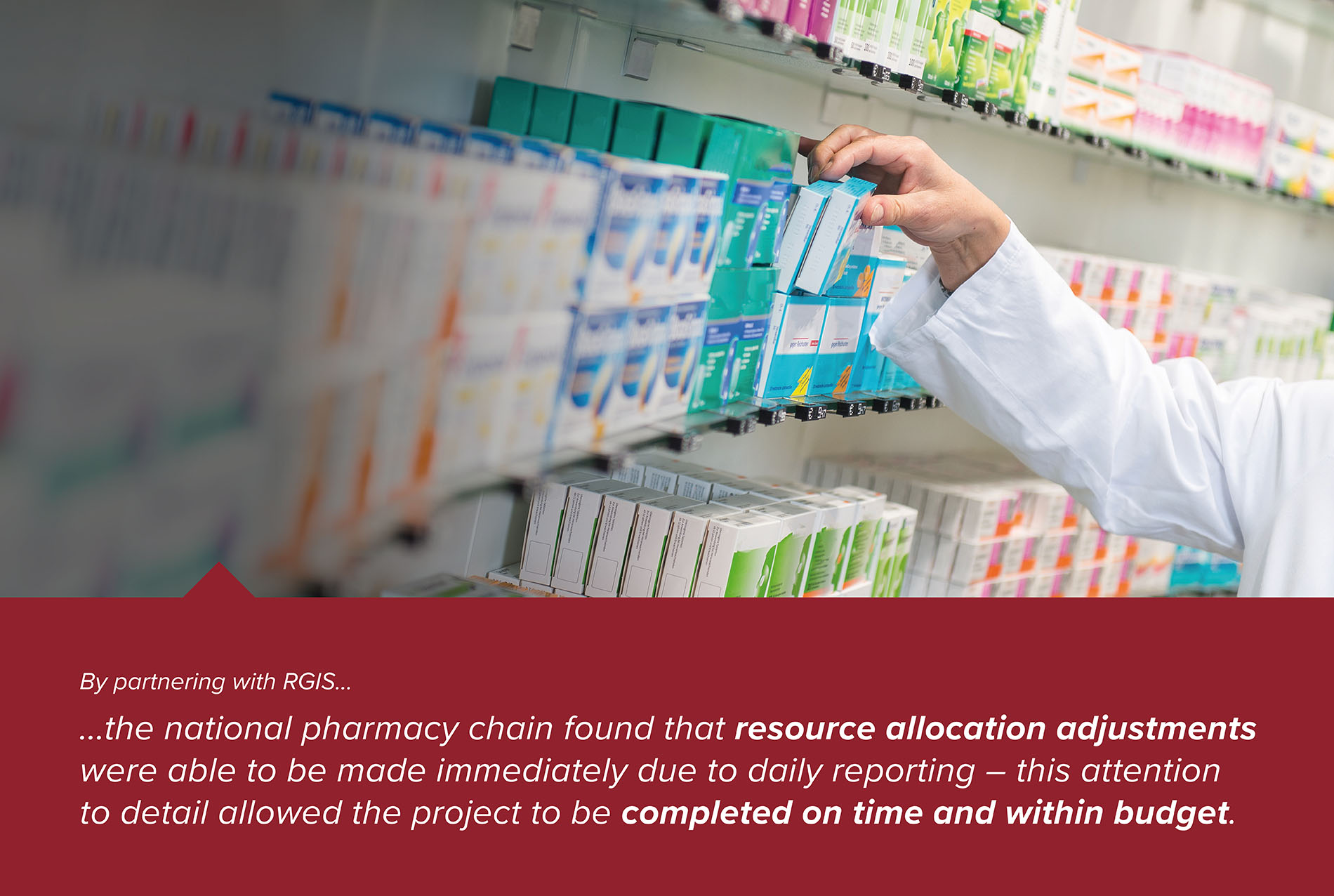 A national retail pharmacy chain with more than 1,500 stores, around 17,000 staff and dispenses over 150 million prescription items annually, required the support of RGIS. The pharmacy teams give customers access to a range of healthcare services that includes screening for Type 2 diabetes, asthma support, pain management, blood pressure checks and a stop smoking service.
REQUIREMENT
The national retail pharmacy chain acquired a competitor with 488 locations and needed resources to convert the pharmacies over to the new brand.
The national retail pharmacy chain required RGIS to provide the following:
A team of experienced merchandisers able to:
Build

fixtures

Move

fixtures

Tag

fixtures

Install

signage

The ability to cover various

locations across the country

In order to remain profitable, the

deadline for the store conversions was six months

Required the identification of 30% of the acquired merchandise which were non-compliant products
SOLUTION
The national retail pharmacy chain partnered with RGIS to complete the rebranding store conversion project, and RGIS provided the following:
RGIS scheduled 33 experienced teams including 50 Merchandising Managers

and 110 Merchandising Specialists

Training

began immediately for supervisors and merchandising specialists
The training focused on the

customer's floor plan and tagging standards

Teams were mobilised in a timely fashion, and the conversions began
RGIS

managed and supported

the rebranding store conversions
RESULTS
The national retail pharmacy chain found by outsourcing the rebranding store conversion project to RGIS, the following results were achieved:
RGIS auditors had previously worked with the customer, performing

pharmacy

and wall-to-wall inventories, so were aware of the specific retail environments
RGIS provided a total of

2,100 experienced merchandisers

for the project
RGIS

managed

306 store conversions

and

supported

182 more conversions

during the project

Resource allocation adjustments

were made immediately due to daily reporting.
This attention to detail allowed the project to be

completed on time and within budget