Quarterly Good Faith Receiving Checks at Warehouses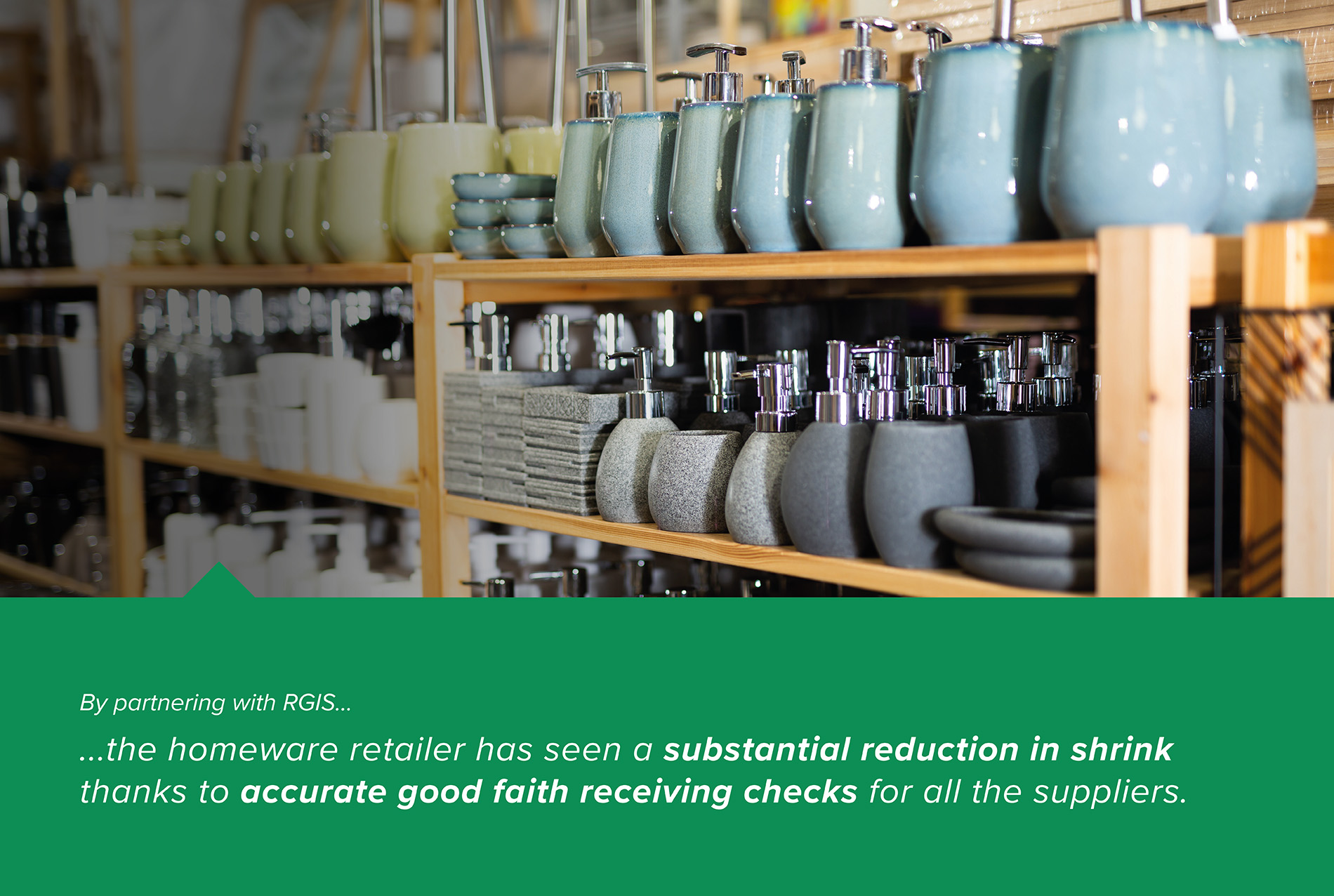 A British home furnishings retailer operating in the United Kingdom, required the support of RGIS. They are one of the largest homeware retailers in the UK, with the company headquarters in England. The retailer currently as 177 retail stores across the UK, employing over 11,000 people.
REQUIREMENTS
The homeware retailer has worked with RGIS for over 14 years, with RGIS providing accurate and efficient stocktakes, developing robust processes and improvements to enhance performance, whilst providing them with excellent customer service. Because of this quality of service, the retailer approached RGIS as they required an independent and impartial third-party auditor to provide delivery checks for all suppliers.
The homeware retailer required RGIS to provide the following:
Extensive knowledge and expertise of the retail supply chain
An experienced team to be based on site at the distribution centres across the UK
Good faith receiving checks for all suppliers to be carried out at two of the distribution centres on a quarterly basis
Report on any variances
SOLUTION
The homeware retailer partnered with RGIS to complete the quarterly good faith receiving check project, and RGIS provided the following:
A team of five experienced RGIS auditors based at each warehouse
As per the customers requirement, a minimum of 5% of all supplier deliveries were checked
A dedicated area for checks was created and RGIS worked closely with the DC management team so that the correct supplier could be checked
An OH file was updated every hour via SFTP with ASN/PO numbers, along with data of all supplier deliveries currently booked into DC, so that up-to-date data was always used to run variances
RESULTS
The homeware retailer found by outsourcing the quarterly good faith receiving check project to RGIS, the following results were achieved:
Products were scanned and reports on any variances to the order were checked and shared with the customer and supplier
Focus suppliers are now checked more regularly until any order issues are resolved and the deliveries from them can be received in good faith
Since starting to provide this service to the retailer, RGIS has seen a substantial reduction in shrink, as the suppliers continue to focus on getting the order quantities correct
RGIS has a good relationship with the suppliers, who trust the RGIS checking process and any reported claims. There is full transparency between RGIS, the customer and supplier
RGIS has been providing this service to the homeware retailer for over 10 years and the customer is happy with the results