Store Renovation Project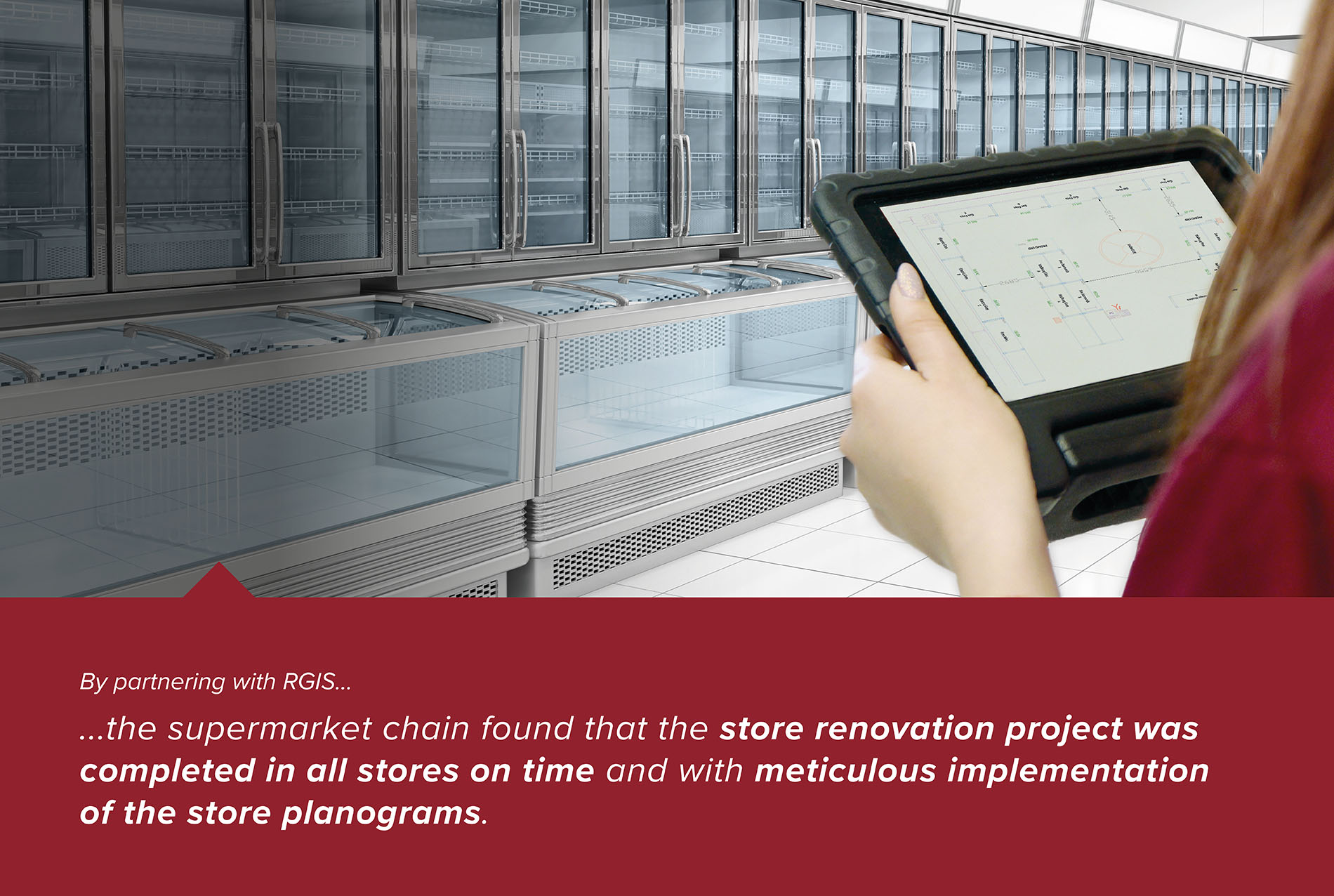 A supermarket chain with an emphasis on the sale of frozen foods, including prepared meals and vegetables, required the support of RGIS. The supermarket chain also sells non-frozen grocery items such as produce, meat, dairy, and dry goods, and have stores in the UK, Ireland, Spain, Czech Republic, Iceland, Norway, Jersey, Malta, Guernsey and Portugal.
REQUIREMENT
The supermarket chain was in need of support for a major renovation initiative of 862 stores, to be completed within four months.
The supermarket chain required RGIS to provide the following:
Experienced

merchandising teams

National coverage

Each team to complete a

minimum of two stores per day

– multiple teams to be in operation to meet the

tight deadline of 862 stores in four months

Implementation of the

store planogram

Teams required to

dismantle old store fixtures and build new ones

Store displays needed to be

set up and installed
SOLUTION
The supermarket chain partnered with RGIS to complete the store renovation project, and RGIS provided the following:
Fully trained and coordinated

multiple two-person teams across multiple

local district areas

for the project
Each RGIS team completed a minimum of

two stores per day

Work included:

Teardowns

Store fixture installations

Display installations

Planogram implementation
RESULTS
The supermarket chain found that by outsourcing the store renovation project to RGIS, the following results were achieved:
Specialised RGIS teams

worked exclusively on the project

The project was

completed in all stores on time

and with

meticulous implementation of store planograms

in all locations

Specialty fixtures were installed correctly

and old fixtures and graphics were completely removed
Project management was handled by RGIS Managers, reporting back to the customer on a regular basis