Virtual Sample Check Process for External Auditors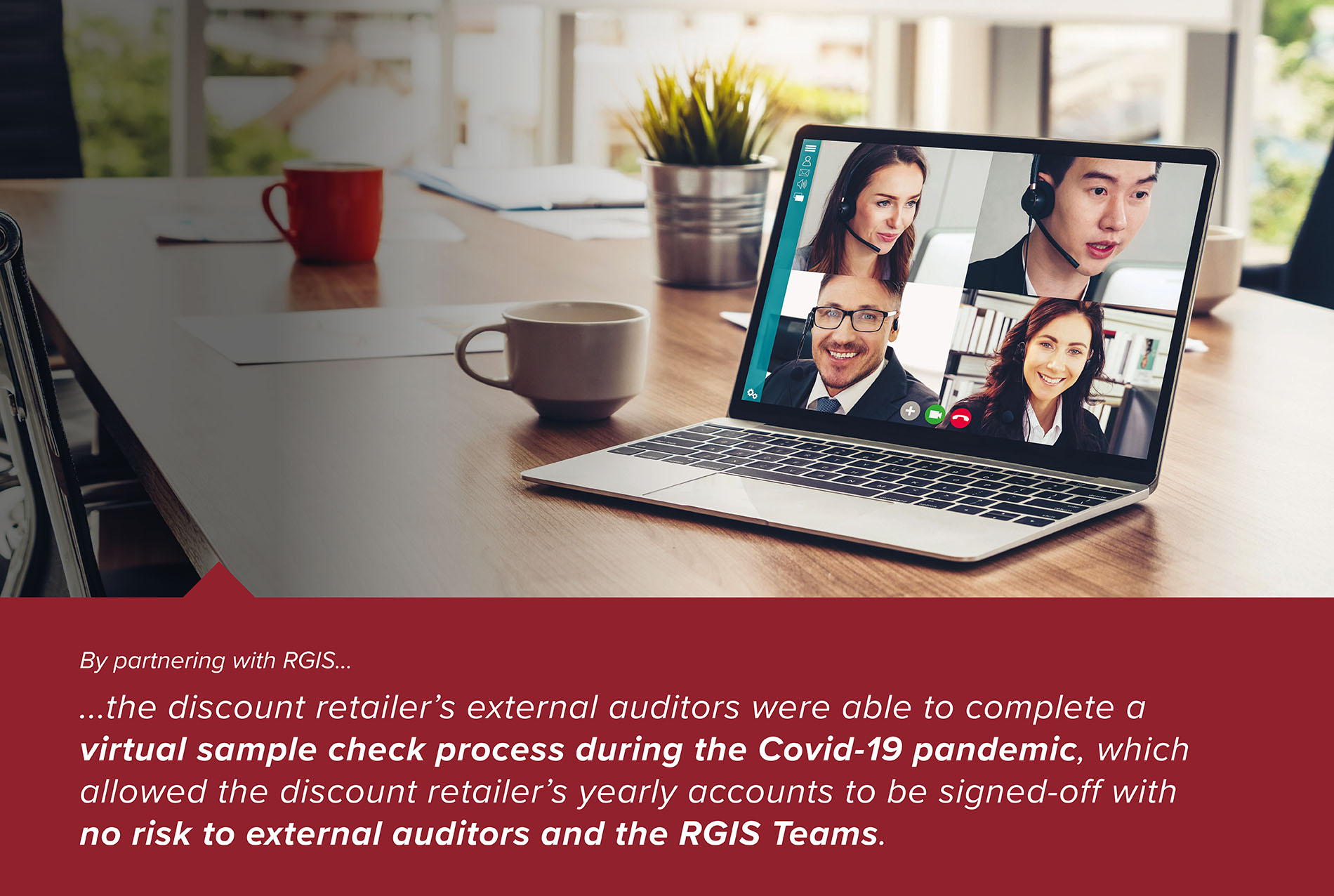 An accounting and business advisory firm which are an international family made up of over 30,000 people across more than 100 countries, required the support of RGIS. The firm supports a broad range of individuals and entrepreneurs, large organisations and complex international businesses, delivering a highly personalised service of accounting, auditing and assurance services.
REQUIREMENT
Due to Covid-19, a discount retailer's external auditors could not attend any stock takes to conduct sample checks, so required a solution to complete this service remotely.
The discount retailer's external auditors required RGIS to provide the following:

Virtual checking

via a video conference app
To conduct a

virtual sample check

with the external auditor's representative

Sample checks to be completed so that the customer could

sign-off the discount retailer's yearly accounts
SOLUTION
The discount retailer's external auditors partnered with RGIS to complete the virtual sample check, and RGIS provided the following:
Discussed the different options to complete the

virtual sample check remotely

Set up a

Zoom call for each store

that needed to have a sample check completed
Arranged for the

tablet on site to have a zoom app

installed
Each site had a

unique log-in and password

, to ensure there were no errors
Scheduled a time which was one hour after the shop floor start to conduct thevirtual sample check
Supervisor dialled into Zoom, and RGIS conducted a

virtual sample check with the external auditor's representative
RESULTS
The discount retailer's external auditors found by outsourcing the virtual sample check to RGIS, the following was achieved:
The process allowed the accountants to do the sample checks so the

discount

retailer's yearly

accounts could be signed-off

By completing this service virtually, it

stopped any Covid-19 risk to the external auditors and the RGIS teams