Combined Internal and External Third Party Logistics Warehouse Count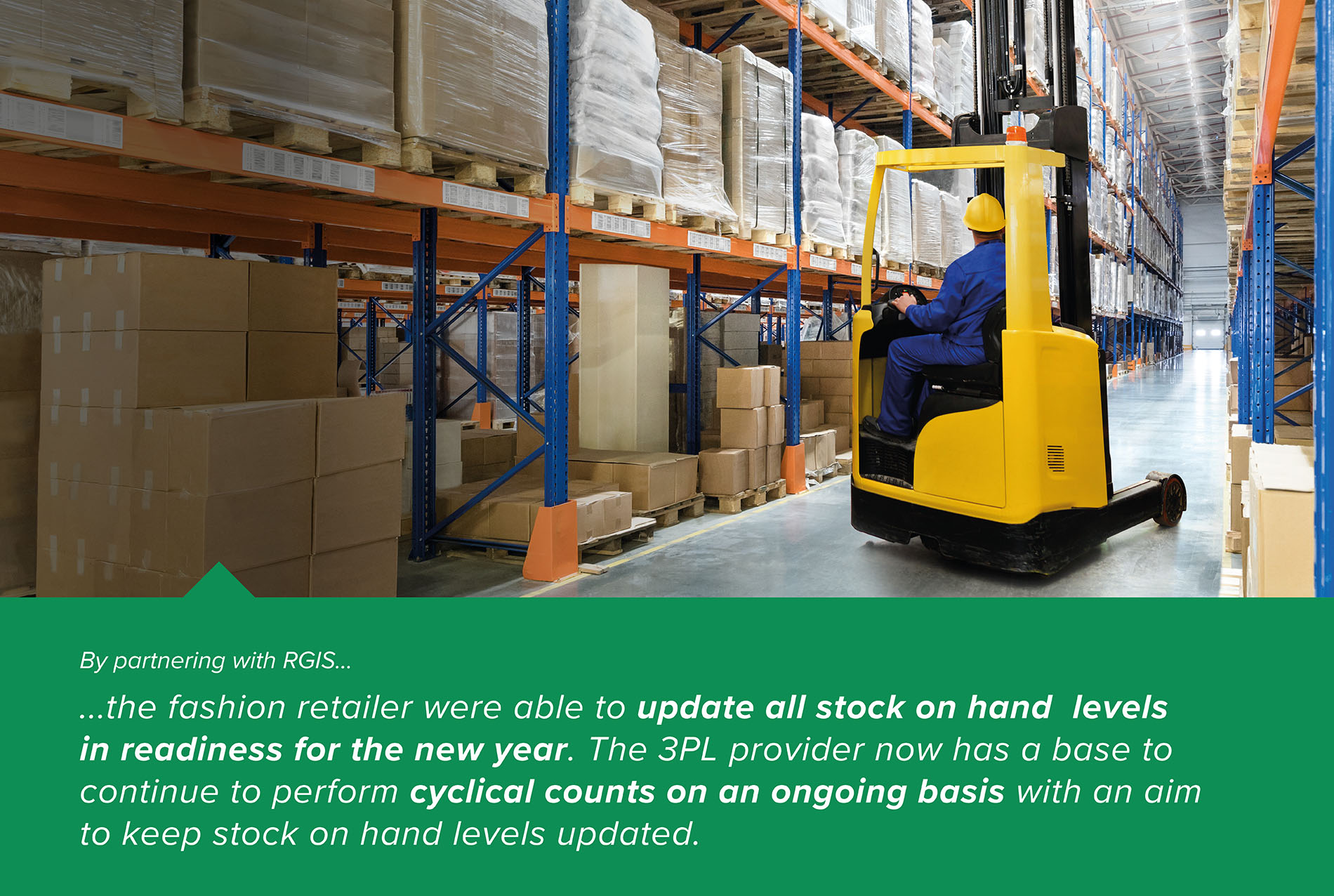 One of the largest specialty fashion retailer group in Australia, with 1,100 stores nationally, required the support of RGIS. The fashion retailer consists of multiple brands.
REQUIREMENTS
The fashion retailer needed a solution to count stock within a third party logistics warehouse (3PL) as stock level accuracy had been identified as dropping.
The fashion retailer required RGIS to provide the following:
To complete a

full

stocktake

within the 3PL warehouse to update stock on hand levels

Work with the 3PL staff

to ensure accuracy

All stock to be counted

even at high levels

within the 3PL warehouse
SOLUTION
The fashion retailer partnered with RGIS to complete the 3PL stock on hand accuracy project, and RGIS provided the following:
RGIS agreed to use a hybrid model of

RGIS staff and 3PL staff to count stock

The stocktake was

completed over an

eight day

period

with RGIS supplying a total of

232 experienced auditors

over the duration of the project
An additional

80 handhelds were provided

each day for 3PL staff to utilise who were trained on their use by RGIS Supervisors
As a lot of stock was stored at height on mixed pallets,

all stock had to be brought down to ground level

to be opened and scanned
RESULTS
The fashion retailer found by outsourcing the 3PL stock on hand accuracy project to RGIS the following results were achieved:
Scanned a total of:

2,069,176 units

527,408 SKUs

60,008 bin locations

The customer was able to

update all stock on hand levels

in readiness for the new year
The 3PL provider now had a base to continue to perform

cyclical counts on an ongoing basis

with an aim to keep stock on hand levels updated accurately