Consolidation of Inventory Data Across Multiple Stores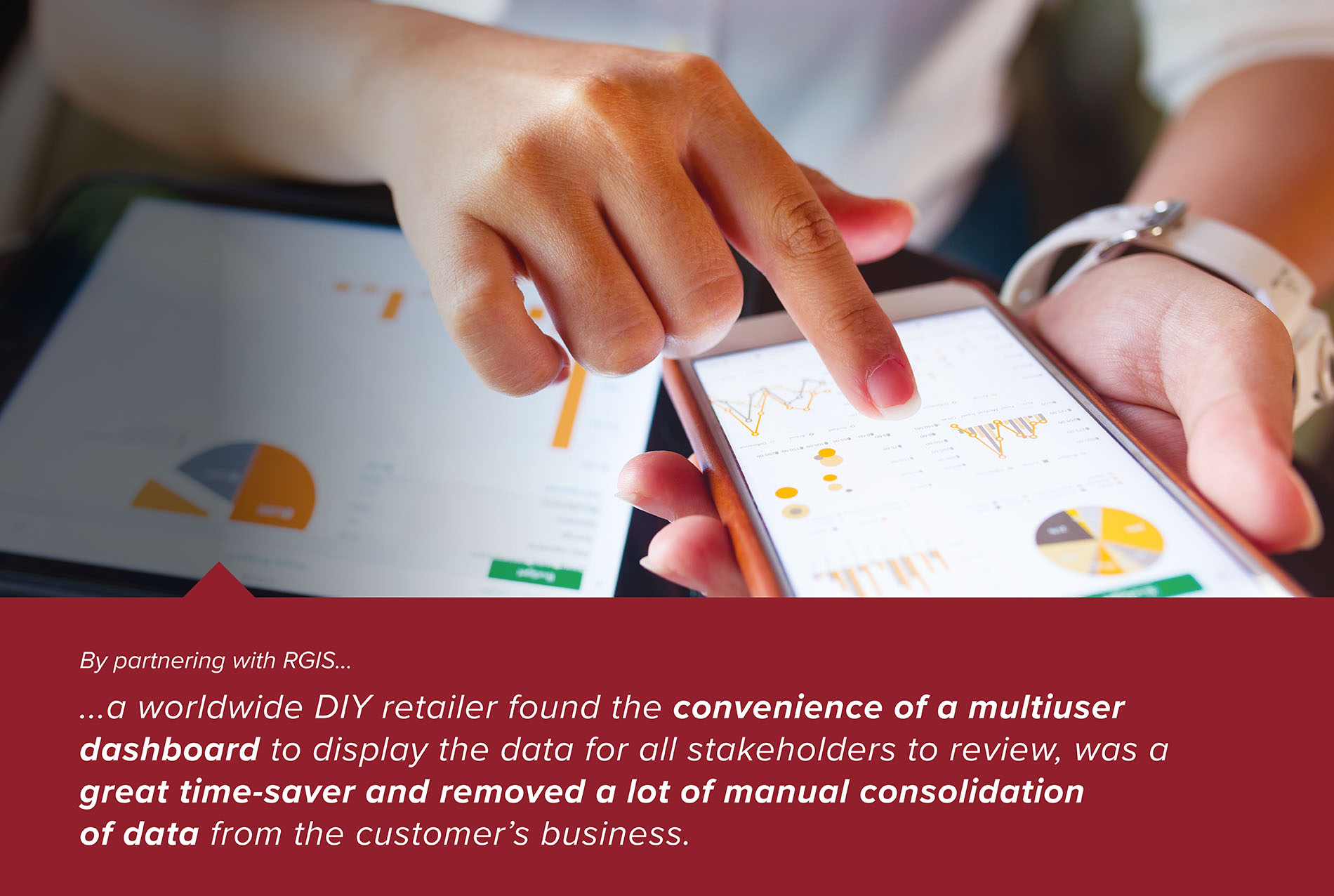 RGIS currently complete over 200 events annually for large home improvement and garden retailer, including store stocktaking backroom counts, warehouse inventory with drones, on-shelf availability and top 100 discrepancy checks. The requirement was to have all this inventory data collated in one place for all stakeholders to have access to the same data sets.
REQUIREMENT
The DIY retailer wanted to consolidate all inventory data from multiple events and make it accessible to multiple stakeholders. The requirements were:
To hold all the

data in one place

Each of the stakeholders to have the ability to view the

same data sets

To remove the time and manual consolidation of data from the customer's internal resource
SOLUTION
Following discussions with all key stakeholders and understanding each of the requirements, RGIS built a personalised web-based dashboard to present data collected from all inventories, as well as additional excel data feeds direct from the customer.
The dashboard offered:
Summary homepage, with two language options
Dashboards specific to each of the four inventory types
Post count review of

areas checked

and

areas counted

, by region, with options to

compare customer, auditor and RGIS findings

Ability to

view dashboard by various measures

– Qty, Value € and by % to total
Side-by-side

store comparison

of departmental performance

Store specific reporting

that can be issued to Store Managers for further action
RESULTS
The DIY retailer found the RGIS Dashboard to be a perfect consolidated view of the inventory results. The additional benefits included:
The convenience of a

multi-user dashboard

with access from the existing customer portal
Displaying 'one version of the truth' data for all stakeholders to r

eview performance

Elimination of manual reporting

for the customer
The ease of use, and the access of the RGIS Dashboard, has led to the DIY retailer asking for additional features to expand the existing reporting even further.