Home Goods Retailer Seasonal Staff Support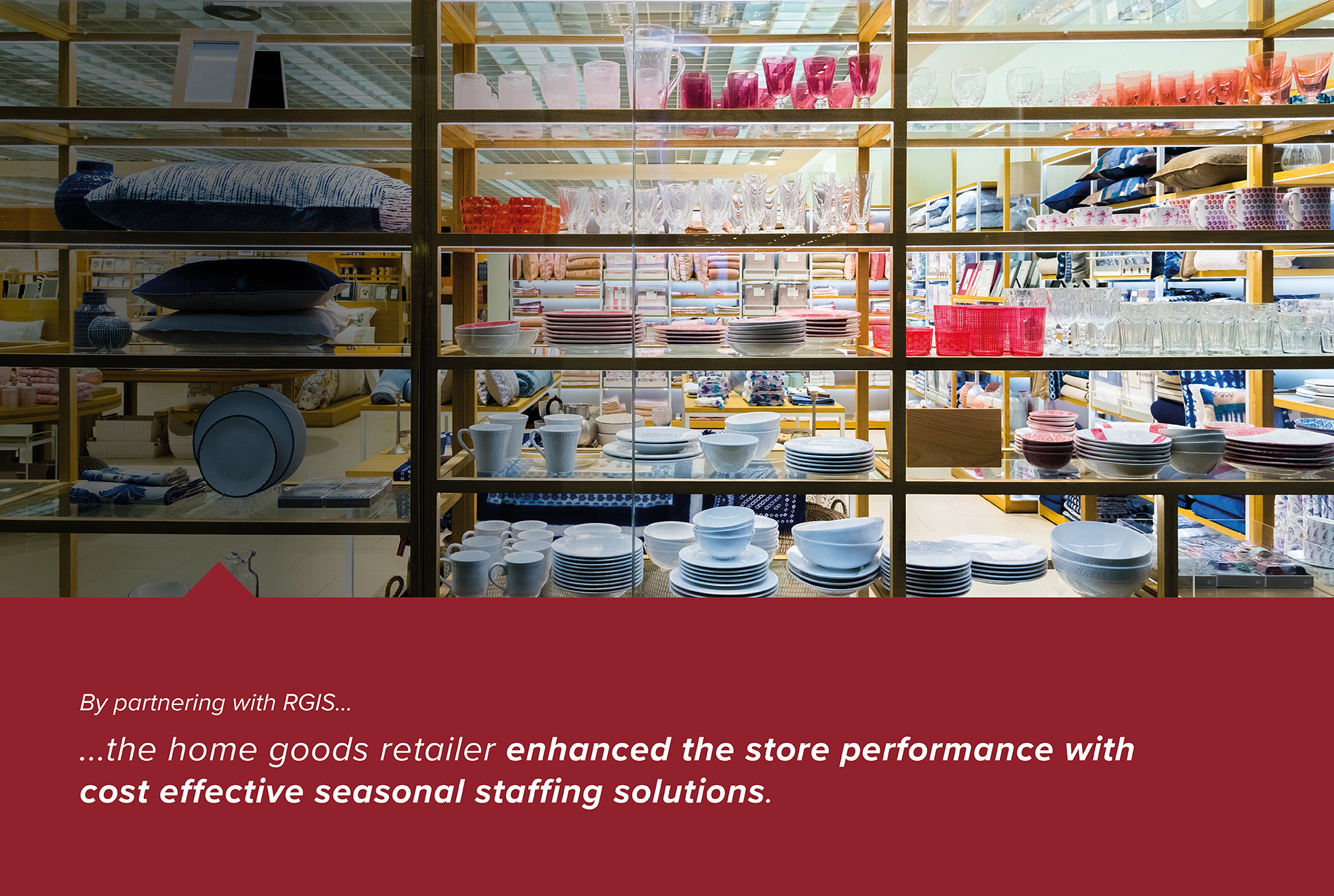 A well-known chain of home goods retail stores focuses on home furniture as well as kitchen and dining room products. The customer wanted to ensure a pleasant shopping experience for shoppers and maintain efficient store performance throughout the seasonal busy period without sacrificing accuracy and cost.
REQUIREMENT
A home goods retailer required seasonal retail staff support, as the store workload was higher than the resources available to meet seasonal demands.
The home goods retailer required RGIS to provide the following:
Professional experienced retail merchandisers

:
Who are

easy to schedule

at any time
Are familiar with

store layout, retail workflows and training processes

Can handle

various in-store responsibilities

National coverage
SOLUTION
The home goods retailer partnered with RGIS to complete the seasonal staff support project, and provided the following:
Assigned

experienced RGIS teams

to specific store locations for a set period of time
The teams were familiar with all the retail store responsibilities needed and helped

accomplish merchandising and freight processing

Flexible scheduling

and rates to eliminate recruitment, training, and new hire costs

Accuracy and efficiency-oriented

teams

who understood the stores' needs
RESULTS
The home goods retailer found by outsourcing the seasonal staff support project to RGIS, the following results were achieved:
The correct amount of

RGIS team members

were

available to handle various needs

during the seasonal rush
The customer was able to keep the

internal team focused on selling

, which allowed for a more

satisfying store experience for the shoppers

Enhanced store performance

with

cost effective seasonal staffing solutions

Improved the shopping experience to

meet seasonal sales goals

Increased efficiency

with understanding on retail store needs and training