Partial and Complete Remodelling of Bathroom Showrooms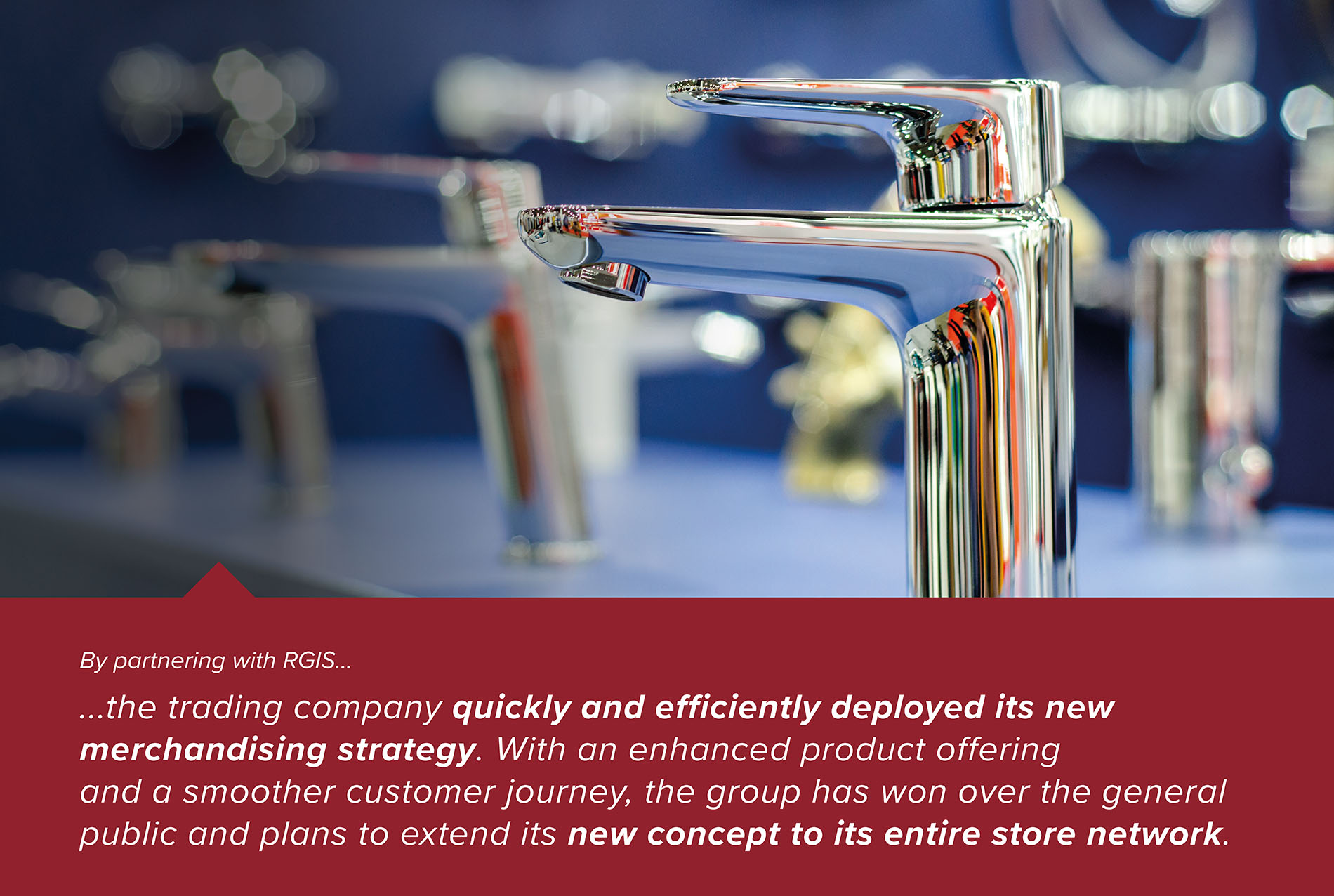 With a network of 500 points of sale in France, a large distribution group that specialises in sanitary, heating and plumbing for professionals and individuals, required the support of RGIS. For one of its subsidiaries the group wanted to deploy a new store concept for its bathroom showrooms.
REQUIREMENT
In order for the large trading company to increase its performance and develop its market share. It began a redesign of its self-services in order to revise the customer journey and the product offer. With the new market environment since the Covid-19 pandemic, and the huge increase of the DIY market, the distribution group needed support in the remodelling of the bathroom showroom stores.
Although the company had an in-house Merchandising Team, they wanted RGIS to provide the following:
Expertise

in merchandising and remodelling

Nationwide coverage

across France
Perform the

remodeling of 70 stores

(33 full and 37 partial)
Carry out the

installation of shelves

during the day without disrupting commercial activity
SOLUTION
The trading company partnered with RGIS to complete the nationwide bathroom showroom and self-service remodelling project, and RGIS provided the following:
Scheduled dedicated teams of

experienced RGIS merchandisers.

Depending on the project and the size of the store (full – 2-6 people for 5 weeks; partial – 2 people for 1-3 days)
RGIS teams removed shelves, moved the goods zone by zone, before assembling the new gondolas of the self-service space

Carried out the layout of the bathroom showrooms in accordance with the

merchandising plans

Provided

daily reports

on the progress of construction sites and

quality reports

each weekend

RGIS teams worked alongside the Merchandising Project Managers of the company and

respected the specifications and the intervention

schedule
RESULTS, the following results were achieved:
The trading company found by outsourcing the nationwide bathroom showroom and self-service remodelling project to RGIS, the following results were achieved:
Expert merchandisers and teams were

efficiently scheduled according to the needs and size of each store

The company's Merchandising Managers were able to reassign their operational staff to other tasks with

higher added value for the company

Benefited from a

remodelling service in its 70 stores,

without disruption to its customers and staff

The company have improved its bathroom showrooms and set up its new self-service areas. In accordance with the merchandising rules defined by its Project Managers
Deployed its new store concept

quickly and efficiently

by creating attractive sales areas