Production Plant Internal Supply Chain Audit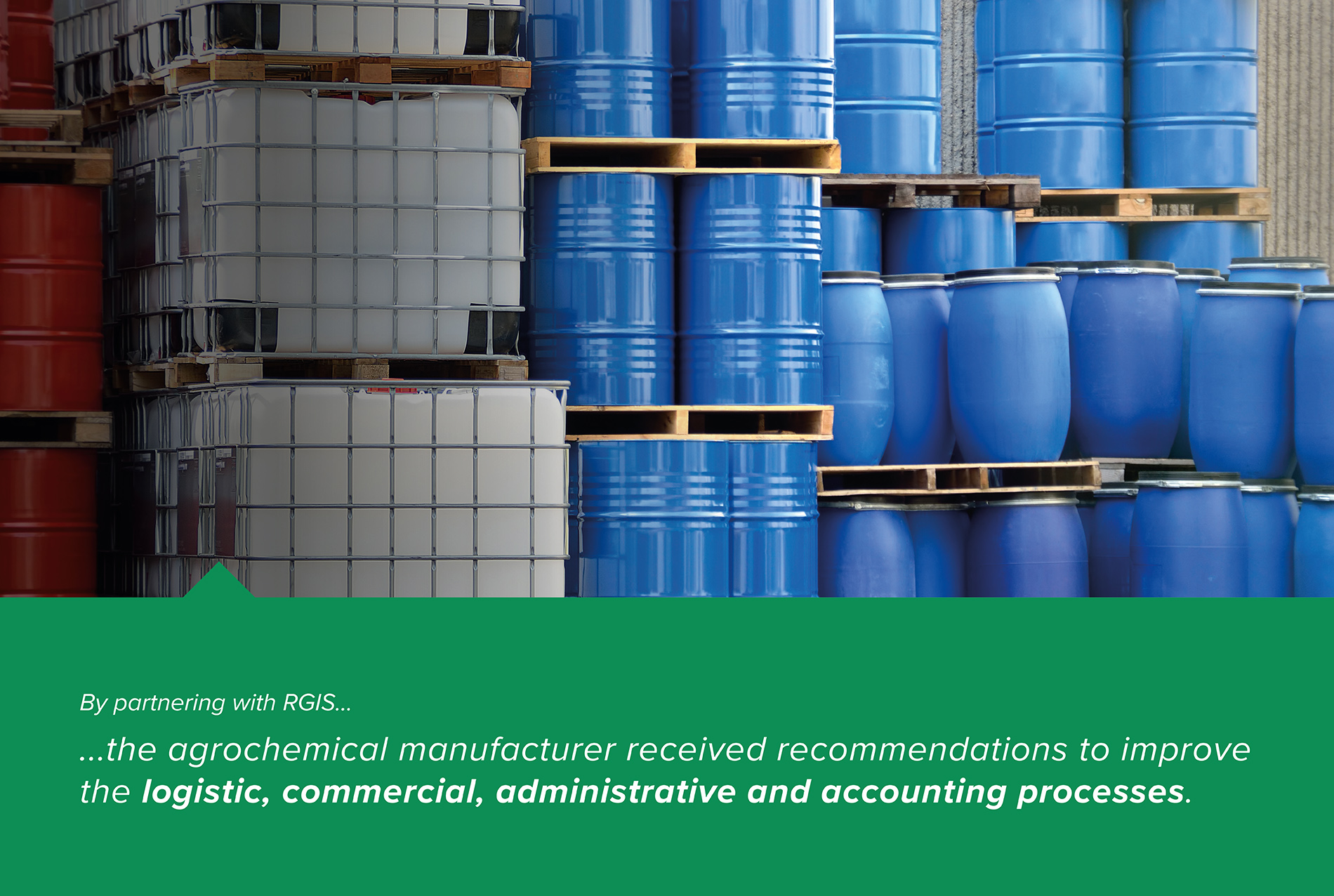 A company that manufactures and markets agrochemicals, industrial chemicals, chemical intermediates, and specialty chemicals, and also offers crop protection solutions, required the support of RGIS. The agrochemical manufacturer's products are sold in over 150 countries.
REQUIREMENT
The agrochemical manufacturer needed a solution to find, classify and quantify the causes which were creating a distortion between the system (SAP) and the customer's physical stock.
The agrochemical manufacturer required RGIS to provide the following:
Complete an

analysis of the activities made over two years

Submit a report

which would allow the executive management to make decisions regarding the business model for the forthcoming years
Areas for RGIS to

analyse

were the

production plant

(ABBOT), the

main warehouse

(FARACE),

eleven regional warehouses

hired by the company (third parties' property) and to also include the

stores distribution chain
SOLUTION
The agrochemical manufacturer partnered with RGIS to complete the internal supply chain audit project, and RGIS provided the following:
Worked closely with an

agronomist engineer

RGIS scheduled a

team of field auditors with experience in the agribusiness industry

to carry out physical information gathering

Visual inspection, full stock taking (with 'blind' methodology) and preliminary conciliation

at the sites reported as critical for the customer, due to being the last link in the distribution chain of the customer's products in Argentina

Verification of shipments

and receipts of products to warehouses

Claim refunds and alert for unjustified shortages

to give intervention to the customer's finance department

Verification of expiration of batches

according to product
Sorted document files and requested documentation for unprocessed returns
Prepared a

dashboard on the status and evolution of the audit

that included the measurement of results

Completed full inventories

in all the warehouses
RESULTS
The agrochemical manufacturer found by outsourcing the internal supply chain audit project to RGIS, the following results were achieved:
RGIS was able to give

recommendations

to the customer in multiple areas on the

logistic, commercial, administrative and accounting processes

The customer was now able to

identify the causes of the anomalies

between the system (SAP) and the customer's physical stock