RFID Fixed Asset Tagging and Asset Count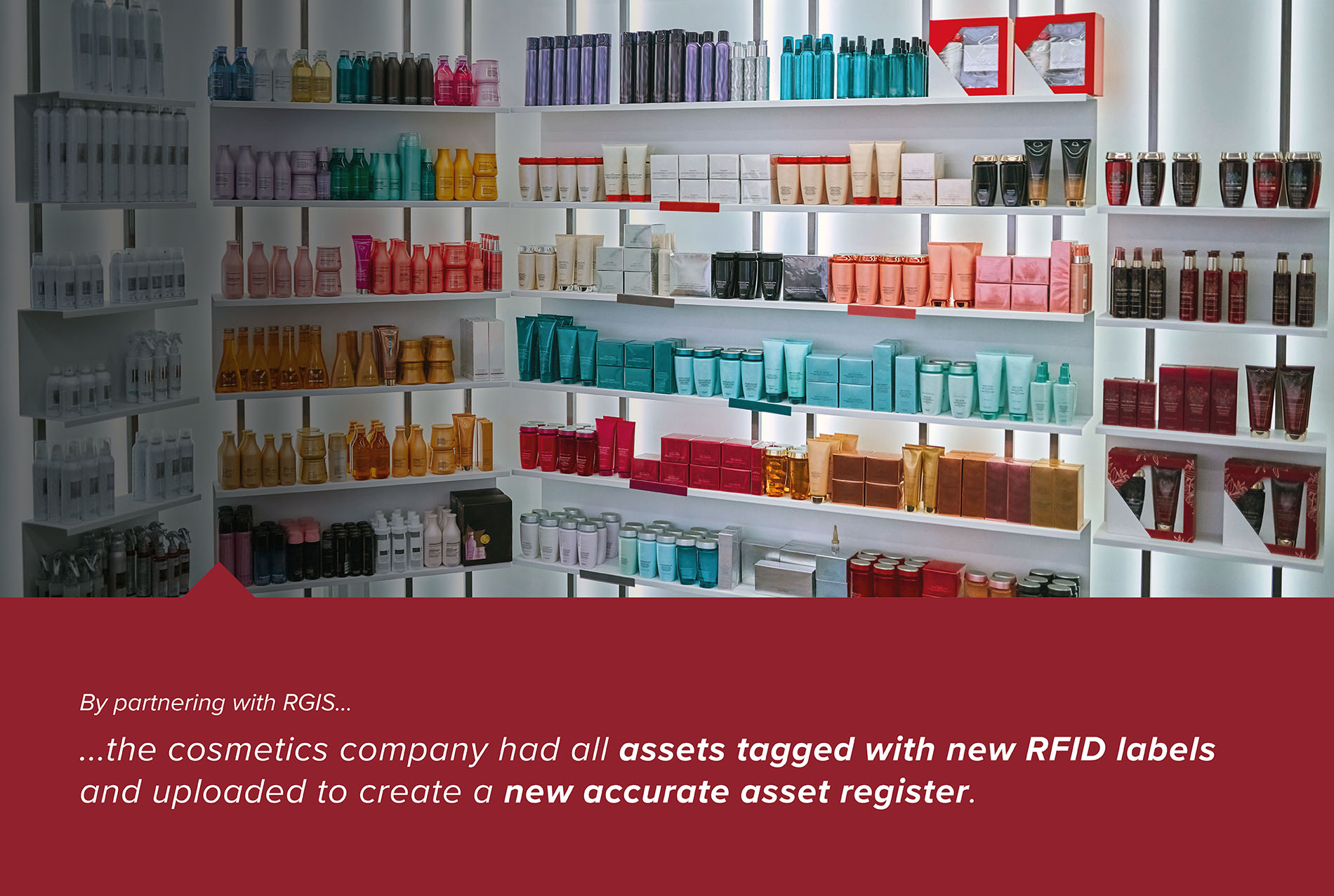 One of the world's largest cosmetics companies that has developed activities in the field concentrating on hair colour, skin care, sun protection, make-up, perfume and hair care required the support of RGIS. The cosmetics company currently markets over 500 brands and thousands of individual products in all sectors of the beauty business. The company has factories and offices all over the world, one of the largest factories is located in Poland.
REQUIREMENT
The cosmetics company bought a full RFID system from a third party, and required a solution to introduce it to the business to help with managing the fixed assets.
The cosmetics company needed an experienced team to implement the RFID system across Poland. So required RGIS to provide the following:
Implement the RFID system

in all offices, logistics centre, stores and academies

Verify the current assets

that needed to be registered

Prepare RFID tags

using third party software

Scan assets to get the data

and add to

new asset register
SOLUTION
The cosmetics company partnered with RGIS to complete the RFID fixed asset tagging project, and RGIS provided the following:
Experienced RGIS teams verified all physical assets

in the locations
Marked location with temporary paper labels and numbers in the register file

RFID tags were then prepared

using the third-party software
Barcodes were printed for each asset, then linked to the RFID tag with the corresponding record in the register by programming it with a desktop reader

Temporary labels were removed and the

new RFID tags were then applied

Using the RFID scanner, the new labels were then scanned to get the data, and any missing data was documented in the reports
RESULT
The cosmetics company found by outsourcing the RFID fixed asset tagging project to RGIS, the following results were achieved:
Teams

accurately applied RFID tags to just over 4,600 fixed assets

in the office, logistic centre, stores and academies
All assets were provided with

RFID tags with a barcode number

printed on it
 If the tag stops responding, it is still possible to identify the single asset by scanning a barcode in emergency situations
The project identified a number of assets that were not in the register. So they had

new asset numbers allocated

, tags applied and were then added to the register

Shrinkage of assets were also found

, due to items being relocated during the pandemic to other locations or personal homes of  employees
The customer's register was now

up-to-date

, with specific data about every asset included in the software
Because of

accurate data

, the customer could easily manage the flow of the assets between locations