Online Retailer Logistics Centre Count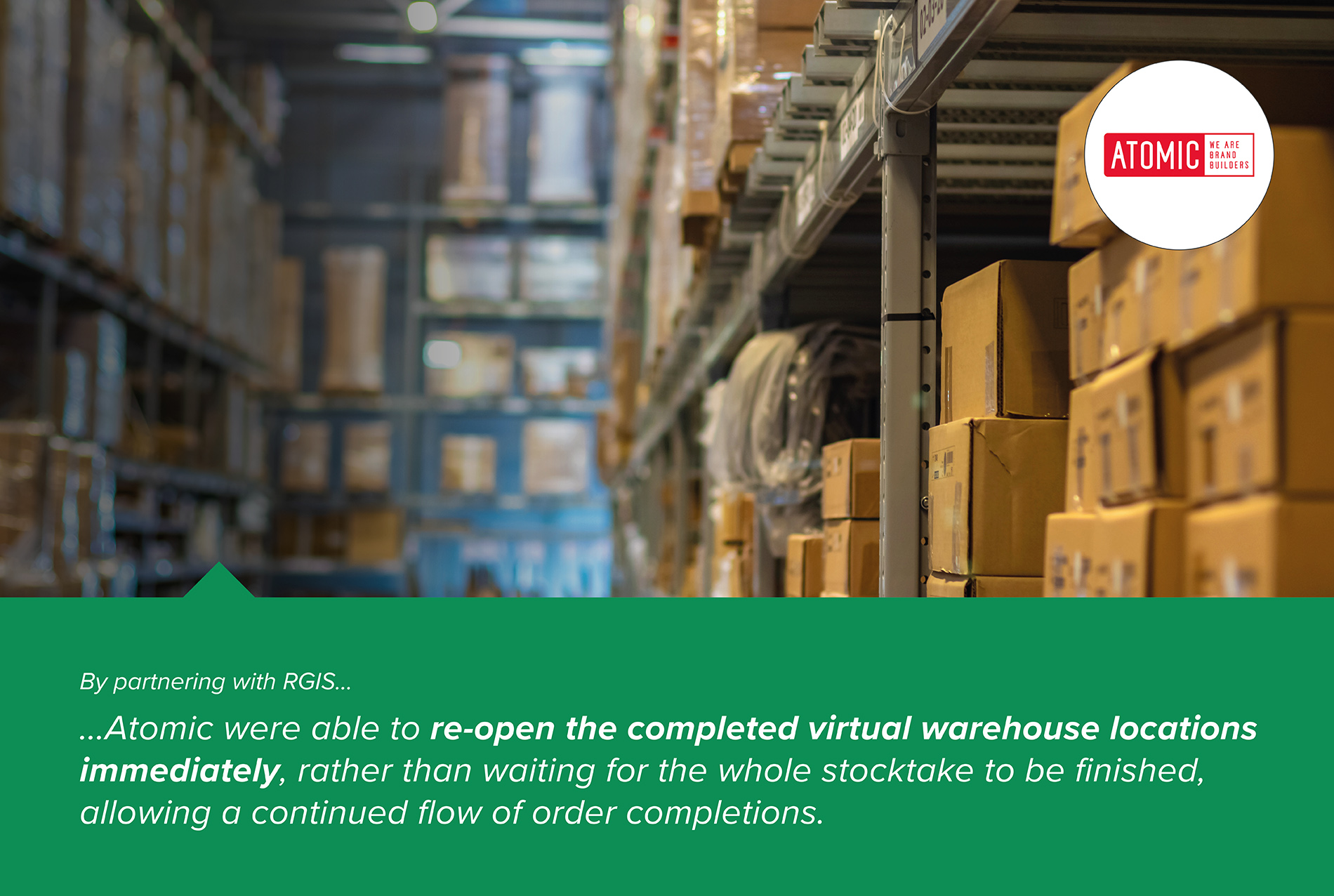 Atomic is an online fashion distributor with 30 years' experience in fashion distribution, licensing, marketing, design and manufacturing. The distributor is located mainly in Australia and New Zealand with additional partners across the world. The talented team is made up of operations, logistics, designers, sales and marketing experts who each contribute to the brands and company's success.
REQUIREMENT
Atomic needed a stocktaking company with experience in a logistics centre environment, to provide an accurate stock position. The distributor needed to ensure customers ordering online were able to be provided the product purchased, if it is shown to be available online.
Atomic required RGIS to provide the following:
Complete a

wall-to-wall count of the logistics

centre

Execute the count

within a tight time frame of two days

Improve the accuracy and efficiency

compared to the previous paper-based process
Provide an

electronic file

which can be imported into the Warehouse Management System (WMS)

Accuracy

of the stock position was vital
SOLUTION
Atomic partnered with RGIS to complete the logistics centre accurate stock count project, and RGIS provided the following:
Scheduled a team of

47 experienced RGIS auditors

Two teams to cover two days
The logistics centre was divided up into

five separate virtual warehouses

Each virtual warehouse required its

own stock count and upload of data

Variance checking

completed by in-house warehouse team

Location checks

were completed to ensure all areas for each virtual warehouse had been accounted for, before providing the upload data to the customer
RESULTS
Atomic found by outsourcing the logistics centre accurate stock count project to RGIS, the following results were achieved:
Accurately counted over

95,000 units over two days

All data was available to be

uploaded immediately to the WMS

Re-opened completed virtual warehouse locations straight away, rather than

waiting for the whole stocktake to be finished, which allowed a

continued flow

of order completions